Fatal San Antonio Pedestrian Accidents has Authorities Urging Caution
Four people died in three days last week in a string of pedestrian accidents in San Antonio.
The Express-News reports a woman was killed Thursday as she attempted to cross U.S. 90 during rush hour. The accident occurred near the Hunt Lane exit shortly after 7 a.m. An approaching truck saw the woman and was able to slow down; but a following car drove out and around the truck and struck the victim, according to authorities. The driver of the truck never stopped but may not have been aware that an accident occurred, San Antonio police reported.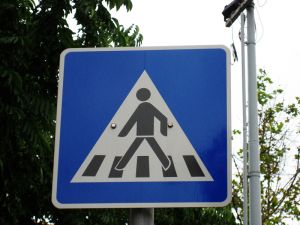 San Antonio personal injury attorneys know many of these accidents involve a driver who is distracted, fails to yield the right of way, or is otherwise negligent. However, in three of the cases last week, police say the driver will not be charged. And authorities are urging pedestrians to remain alert and to obey all traffic laws.
On Tuesday, a 90-year-old woman was killed crossing Fredericksburg Road in her motorized wheel chair; she was on her way from a bus stop to an adult day care. That same day, an unidentified homeless man was struck in a parking lot by an F-150. Police are still searching for the driver in that case. Also Tuesday, a 47-year-old woman was killed on I-35 after being struck by an 18-wheeler and numerous other vehicles. The truck driver in that case also did not stop.
"(D)rinking, walking in the dark without light-colored or reflective clothing, walking facing the wrong direction and failing to look for or use a marked crosswalk," are common reasons cited for pedestrian accidents, according to Scott Ericksen, of the San Antonio-Bexar County Metropolitan Planning Organization. The National Highway Traffic Safety Administration reports more than 4,200 people are killed and 70,000 seriously injured in pedestrian accidents each year. In 2010, Texas pedestrian accidents claimed 345 lives. Only Florida and California reported more deaths.
NBC News reports pedestrian distractions are a more common occurrence with the advent of smartphones. In New York City, where half of all fatal accidents involve pedestrians, a pilot safety campaign is painting eyes in crosswalks and at bus stops, encouraging pedestrians and motorists alike to pay attention to where they are going. While pedestrians typically have the right of way, that will be of little consolation in the event of a serious or fatal accidents.
As we see in several of these cases, hit-and-run drivers are frequently responsible for these crashes and may face serious felony charges if caught and convicted. However, of more practical importance to the family dealing with the serious or fatal injury to a loved one, is paying for medical care and recovering compensation for lost wages. The absence of an at-fault driver can make seeing such compensation a critical and complex process. In other cases, the driver may lack insurance or have a policy that is not adequate enough to cover the damages. These uninsured/underinsured motorist cases must also be handled by an experienced personal injury and wrongful death law firm.
If you've been injured in an accident, contact the Herrera Law Firm at 800-455-1054 for a confidential consultation.