Texas Oil Rig Accidents & The Eagle Ford Shale
Even before the Deepwater Horizon disaster in the Gulf of Mexico, the inherent risk of oil rig injuries in Texas was a daily fact of life for many families. In the fast-growing Eagle Ford Shale region of South Texas, motorists and oil workers alike are facing increased accident risks.
Working on offshore oil and gas rigs has long been one of America's most dangerous occupations. Employees routinely work 12-hour shifts, in dangerous conditions, while isolated hundreds of miles off the coast for several weeks at a time. The Bureau of Labor Statistics reports 120 employees were killed on oil and gas rigs in 2008. Nearly half were killed in transportation incidents, 1 in 4 fatal accidents involved a worker being struck by an object, and most of the remainder involved injuries resulting from fires or explosions.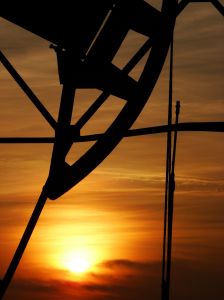 Texas oil rig accidents claimed 41 lives that year — most in the nation. Eagle Ford Shale accidents in South Texas continue to be of increasing concern. Other states that reported the most fatal gas and oil rig accidents included Oklahoma (21) and Louisiana (13). Over the last 5 years, the number of fatal oil rig accidents in Texas has increased by 20 percent. Oil and gas workers most at risk for injury include roustabouts, roughnecks, toolpushers, drillers and truck drivers.
The Houston Chronicle reported earlier this summer that Eagle Ford's highly productive wells and vast size are combining to make it the nation's busiest and best shale play. Thus far, the Eagle Ford wells are producing more on a per-well basis thank the Bakken Shale area of North Dakota and Montana, currently the nation's top play. Eagle Ford wells are delivering an average of 300 to 600 barrels a day, based on peak production, compared to about half that for wells in the Bakken. The Eagle Ford play also covers 400 miles, from East Texas south to San Antonio and the border.
The Centers for Community and Business Research at the University of Texas at San Antonio estimates Eagle Ford will produce 65 million barrels of oil this year — compared to the 36.6 million barrels produced last year. As our San Antonio trucking accident attorneys have reported, the increased production is also being blamed for a drastic increase in commercial trucking accidents in the region.
Frequently, we find cut corners and a profit motive involved in such accidents. In the wake of the deadly BP refinery explosion in Texas City in 2005, which killed 15 oil workers and injured 190 others, the Chemical Safety Board found evidence of cost-cutting on maintenance, employee fatigue caused by extended work hours, and other risks caused by aging equipment.
Challenges remain across the border as well. The Washington Post reported earlier this month that a pipeline blast in Mexico, across the border from McAllen, claimed the lives of 30 workers and injured 46 others at Pemex — Mexico's predominant oil company.
If you've been injured in an accident, contact The Herrera Law Firm, Inc at 800-455-1054 for a confidential consultation.