San Antonio Tractor-Trailer Accidents a Growing Concern
A series of deadly San Antonio tractor-trailer accidents has authorities preaching caution.
The Express-News reports the Tilden community — a once quiet community in McMullen County 60 miles South of San Antonio, has seen a rash of recent commercial trucking accidents. The risk for these accidents will continue to increase with economic recovery. More than a dozen counties have seen drastic increases in traffic with the Eagle Ford Shale energy boom — and with it an increase in the number of serious and fatal trucking accidents.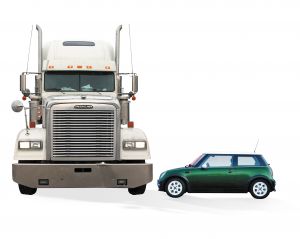 In fact, McMullen has seen commercial vehicle accidents increase tenfold — from just 4 crashes in 2008 to 46 crashes last year, according to the Texas Department of Transportation. Neighboring LaSalle County has seen a 48 percent increase in such crashes.Preview
Truckers ignoring signs in construction zones and defective headlights are top causes for accidents, according to state statistics.
Make no mistake about it: These trucking companies and commercial drivers have an obligation to protect the public. A passenger car doesn't stand a chance against an 80,000 pound tractor-trailer. Such accidents are often fatal and almost always injure or kill the occupants on an involved passenger vehicle. In 2010, more than 3,600 people were killed and 80,000 injured in accidents with large commercial vehicles, according to the National Highway Traffic Safety Administration. The 377 fatal trucking accidents in the Lone Star State make Texas by far the deadliest state in the nation for such accidents. California was a distant second with 239 deadly accidents involving commercial trucks.
The Texas Department of Transportation offers safety tips for driving around large trucks:
-Maintain a safe following distance.
-Never cross behind a truck backing up.
-Don't try to squeeze between a truck and a curb. Trucks make wide turns and can trap a passenger vehicle.
-Use caution when passing a truck – don't move back into your lane until you can see the truck driver in your rearview mirror.
-Use caution in a truck's blind spots — including behind and alongside the trailer and directly in front of the cab.
Trucking accidents are complex cases. Determining the cause of the accident and identifying those responsible are critical when seeking compensation for medical bills, lost wages, pain and suffering and other damages. Responsible parties may include the truck driver, trucking company, maintenance contractors, freight owner and even the manufacturer of the tractor-trailer. Trucking companies carry substantial liability insurance policies, typically in the amount of $2 million or more. So failure to make a proper claim against all of the parties responsible for your accident can be detrimental to your case.
Understanding the various state and federal regulations governing truck drivers and trucking companies is also critical to building a case capable of winning the compensation you deserve. Federal text-messaging and cell-phone bans for commercial drivers may be key to proving negligence in a distracted driving accident, for instance, despite the fact that using an electronic device behind the wheel might not be illegal for most motorists under Texas law. Hours-of-service regulations may also play an important role in determining whether a truck driver was negligent in causing an accident.
If you've been injured in an accident, contact The Herrera Law Firm, Inc at 800-455-1054 for a confidential consultation.