San Antonio School Bus Accidents: Best Prevention Practices
A San Antonio school bus driver can claim to be the nation's best.
Michael Castaneda earned second place at an International bus driving competition. The event was won by a Canadian, making Castaneda the top finisher in the United States. He once again starts the school year this month as a bus driver for North East Independent School District here in San Antonio. He's up at 5 a.m. and averages 100 miles a day. The bus' seven mirrors help him to see around fenders and tires; making sure children are clear before leaving each stop is critical.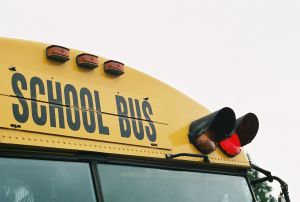 San Antonio personal injury attorneys understand motorists often grow frustrated with the return of the big yellow buses to our roads each year. And the risks for pedestrian accidents and bicycle accident increase, particularly in residential neighborhoods, near bus stops and around schools. But when it comes to school bus accidents, the majority of the risk occurs as students are boarding or deboarding the bus.
The National Highway Traffic Safety Administration reports school bus accidents most often seriously injure or kill young pedestrians. Two-thirds of those are struck by the bus. Nearly half of such victims are 5 to 7 years old.
It's another reason why the law requires motorists to stop when approaching a school bus displaying red flashing lights. This signals the bus is loading or unloading passengers. Motorists should watch for children crossing the streets around the bus, and for those who may be running to catch the bus. The Texas Department of Public Safety warns motorists of fines of up to $1,000 for a first offense. A six-month suspension of your driver's license is possible for a repeat offense.
"When a school bus is loading or unloading students, the law requires that drivers stop on most roadways," said Col. Thomas A. Davis, Jr. "Drivers must slow down, obey school zone speed limits and stop for school buses to ensure the safety of Texas school children."
Using extra caution around school buses can also keep a motorist out of a traffic accident in San Antonio, where motorists fare particularly poorly when a school bus is involved. The U.S. Department of Transportation reports that most people killed (72 percent) in accidents with school buses are the occupants of passenger vehicles.
"It takes us maybe five times more space to stop than you do," Castaneda said.
Please do your part as the school year gets under way, and help us keep our children safe as they return to class.
-Parents: Talk to your child about the importance of safety around the school bus, and when traveling through neighborhoods. Make sure they understand pedestrian and bicycle safety measures, know what to do if approached by a stranger, and can tell an adult how to contact you in case of emergency.
-Children: Leave in plenty of time to arrive at the bus stop 5 minutes early. Use crosswalks and sidewalks. Never board the bus until the driver signals you to do so. Never attempt to retrieve an item dropped beneath the bus. Don't engage in horseplay on the bus or at the bus stop.
-Teen Drivers: Pay extra attention around schools, in school zones and when traveling through residential neighborhoods. Make sure you arrive at school safely. Limit distractions. Understand your chances for an accident increase dramatically with each young passenger in your vehicle. Understand the requirements to stop for a school bus that is loading or unloading passengers, unless separated by a divided highway.
Motorists: Please obey the law and exercise a little patience. Use extra caution around schools, bus stops and in residential neighborhoods, particularly in the early morning and afternoon hours. More than two-thirds of all fatal school bus accidents occur from 7-9 a.m. and 3-5 p.m.
If you've been injured in an accident, contact The Herrera Law Firm, Inc at 800-455-1054 for a confidential consultation.
Additional Resources
San Antonio can claim nation's best school bus driver, WOAI.com, Aug. 22, 2012.
Tags: san antonio lawyers, San Antonio personal injury lawyers